CGL COACHING BATCHES DETAILS
SSC CGL Batch Starts From 26th November 2019
@ 10:00 am
We at EZE Academy Provides  Best SSC CGL Coaching Hyderabad Institute. We have three types of Programs based on Student's ability in CGL Coching
SSC CGL Short Term Coaching
CGL Mini Long Term Coaching
SSC CGL Long Term Coaching
SSC CGL Short Term Coaching only meant for experts ie student who has sound knowledge in GS, MATHS, REASONING and ENGLISH Language.  Course Duration is Four Months, During This period our faculty gives a gentle push in their way of approach towards cracking SSC cgl. In the process, we provide necessary stuff like material and tests in.
The Second One is SSC CGL Mini Long Term This is almost same with short term,only time duration is more than short term coaching, Duration  8 Moths.
EZE ACADEMY don't have any branches, The main intention behind this is not to kill quality, we cannot give same quality staff in all branches.
To get best output in  SSC CGL Long Term Coaching all the quality staff should be available at one place, there is continuous screening by them.
For Long term , We take only beginners, Who shows enthusiasm  to get job in SSC CGL but they do not know what they studied in past, In one word say  SPOON FEEDING LECTURE needed for them.
we teach them from basic level, every doubt out of the student is clarified, to make a student from beginner to expert is a lengthy process.  We need Eighteen months of time to achieve good result in SSC CGL Coaching Hyderabad Institute.
Conditions
To join in SSC CGL long term  Student must produce clean chit from their local police station. Student should maintain 100% attendance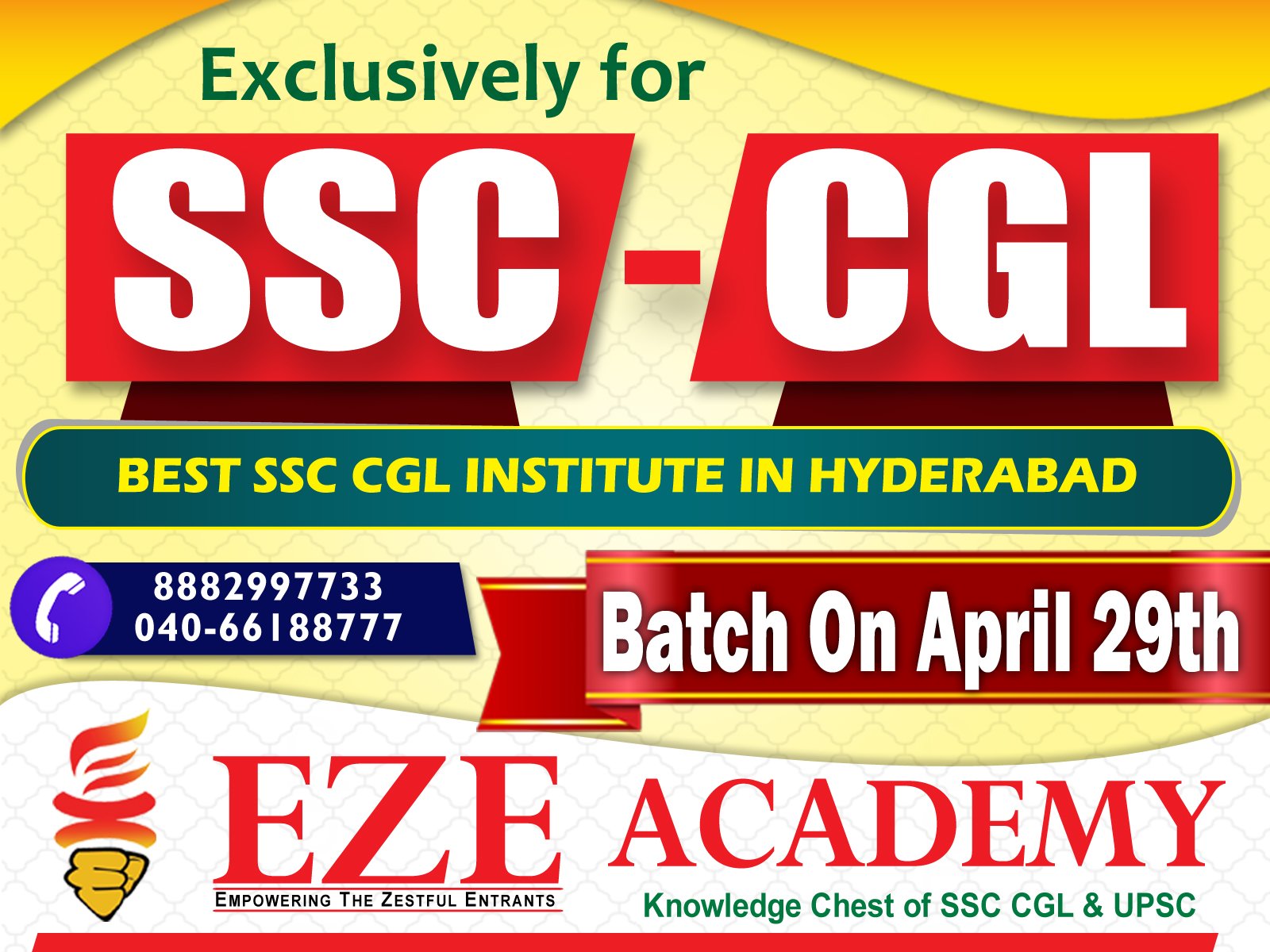 STAFF SELECTION COMMISSION COMBINED GRADUATE LEVEL
SSC CGL Batch Details:
SSC CGL Batch Details
Batch On 29-04-2019
Timings 10:00pm To 1:00pm
Duration:: Up to Exam
Get Branded Services At An Un Branded Prices
Credits
Standardized content and Coaching Methods
Regular tests on covered topics
Experienced and Well Qualified  Faculty
Remedial Actions For Weak Students Especially In Mathematics
Grand Tests at the end of the syllabus
Separate Classes For Doubts
Online Exams Facility
Well Planned Level Wise Structured Material
A/C & Digital Classrooms (State of art infrastructure)
Online Classes Will be Started Soon
Support to Academically Bright Students
Study hall facility